Derek Featherstone / Published:
I've been teaching an online workshop called Teach, don't speak over the past couple of weeks. It's only one data point, so I can't guarantee that I've come up with truths, or things that I can 100% rely on. Nor should you read them as 100% always true. Just read these in the spirit in which they are intended: me making sense of what I'm experiencing as I teach the workshop.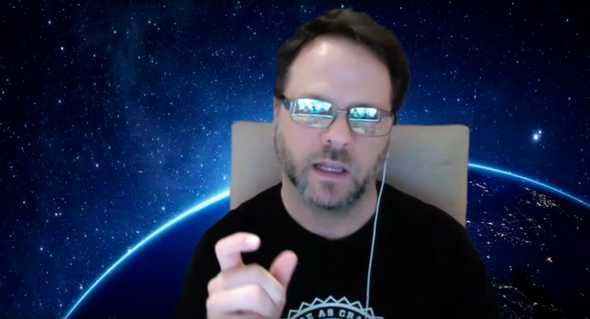 Yes, actually, I do gesture when I'm teaching online too.
Here's some notes about the workshop:
there are 12 participants plus me
this is a hands-on workshop where I'm guiding them through relevant activities
we're using zoom for video conferencing
we're recording all the sessions
we're mostly based in North America, 3 people are close to GMT time, 1 is based in Australia
pretty much everyone has at least some background knowledge and experience in accessibility, which was not intentional, but is proving interesting
On timing
What I expected to get done in a full-day in-person workshop is taking a bit more time when running it online. I broke up the "day" into four 90-minute sessions. It's likely going to take us somewhere between five and six 90-minute sessions to get to where I would expect if we had a full day together. That may be simply because we're breaking it up into chunks, or it may be to do with online delivery. Either way, the next time I do the workshop, we're going to make sure that's reflected in the listed dates/schedule and I'll plan the timing a little better.
This is the biggest thing I've noticed:
You can't expect a 1:1, hour-for-hour mapping of a live workshop to online delivery. Allow more time for online.
Next time I'll estimate about 15-25% more.
Of course, if you're lecturing for an online class and lecturing in person, I think you can expect pretty close to a 1:1 hour-for-hour.
Batman
There's an entire backstory to this, but here's the short version: in 1995 when I started my first full-time teaching job, I wrote out on paper some single words that I mounted on the wall of my office. Those single words were things I called "paper lighthouses" — sheets of paper that helped me see through the fog of being a new, full-time teacher. They were reminders of principles I wanted to uphold in my teaching.
One of them was "Batman."
What does that have to do with this? Remember the old 1960's Batman series? One of the things that they always did was have an intro and an outro to each episode. The intro would always remind you of what you saw on the last episode and the outro would provide a preview of what was going to happen in the next episode.
"Batman" was my reminder to do that in my lessons — and I'm mostly doing that in this workshop too… Each session starts with casual discussion that reminds us of things we've done previously, and usually ends with some kind of a sneak peek at what we're doing next time. I do this when I'm teaching a single day workshop, but I'm doing it much more for the online version than I'd do live and in-person for a full day.
Interactivity
This isn't me just lecturing for the entire time for the workshop. We're discussing things as a group. The participants are doing hands-on activities. We're using chat. We're sharing screens and talking through things. That's helpful in keeping things going. There's a lot of change of pace going on — that's important in all teaching, but I think it's even more important when we're delivering online.
What's next?
I'm going to keep doing this workshop online for the forseeable future, and I may even create some more workshops to accompany it. So what's next for me? I'm gonna keep learning too, and making sense of what I'm experiencing. I'll aim to share those things I learn here too…
---